Unicorns and horses are both creatures that fuel our imaginations, showing us a different way of being in the world, allowing us to be maidens, princesses, knights, and faeries.
What do you envision for your unicorn photo shoot? Something light and ethereal? Or perhaps something a little dark and mysterious? It is unique to create a unicorn out of different colored horses, my Friesian looked amazing as a unicorn even though unicorns are not typically thought of as black.
Creative Inspiration
A few ideas for when having a unicorn would be useful:
Halloween costume

Portraits/Fantasy photos (for yourself or a client)

Think grandkids, birthday party photo prop, senior pictures, or social media (Instagram or Facebook!)

Craft project for the kids (summer camp, birthday party, after school program)
My favorite source for inspiration is definitely Pinterest.
Pinterest: I have over 15,000 followers on my Pinterest page with a variety of boards for you to get ideas from. Start with my "Unicorn Photo Shoot", "Fairy Inspiration ", and "Tack Inspiration" boards to get started. Click here for my main Pinterest page or select the board you want to see below:
The Unicorn Horn
For the unicorn horn, you have a couple options: you can either buy one, or if you're feeling crafty, you can make one yourself!
There all sorts of unicorn horns available. There are fabric horns, plastic horns, glass horns, etc., and they range in length. If you have a pony, you may want to consider a shorter horn than you would use for a larger horse. Some horns even come adorned with flowers, gems, or beads. Generally, you will simply tie the horn onto your bridle/halter (either onto the brow band or onto the cheek piece and headpiece) using the ties at the base of the horn. Most horns you purchase will come with instructions.
You will also have color options. You can decide based on your horse's coat color, mane and tail, costume, or your accessories. Personally, I like to match the horse's coat color as it looks the most natural.
Many Etsy sellers will also work with you to create a custom piece that is unique to your needs.
Below are some of my favorite Etsy shops that sell affordable unicorn horns:
Avry Couture Creations
Beautiful unicorn horn and flower crown sets for your photo shoot or wedding. Beautiful color themes with blush, lavender, silver, and gold. Comes in two sizes 8" and 11". Visit store...
If Wishes Were Ponies
More expensive fabric unicorn horns but they offer a wider range of colors and custom sizes. If you have a very small pony or a large draft they can customize it for you. The Natural-Look Unicorn Horn™ attaches using either non-detachable or detachable loops and the Unicorn Browband™ comes attached to a browband. Visit store...
The Unicorn Corner
These horns are made out of durable, lightweight plastic which is safe for horses and their handlers. Each horn in the Unicorn Corner studio is made from their original sculptures. They have a realistic spiral and a glittery finish. Three sizes available 7, 9, and 12 inch. Visit store...
SuperAwwwsome
Handmade horns available in multiple sizes, 4, 6, 7, 9, 10,11 inches. They attach with ribbon or elastic cording. Unicorn horns come in a wide variety of colors. Visit store...
Baby Birdie Boutique
Affordable fabric unicorn horns with beautiful floral accents. Her horns come in 5', 8", 10" or 12" sizes and she also offers two attachments including an elastic band and a large french clip. Visit store...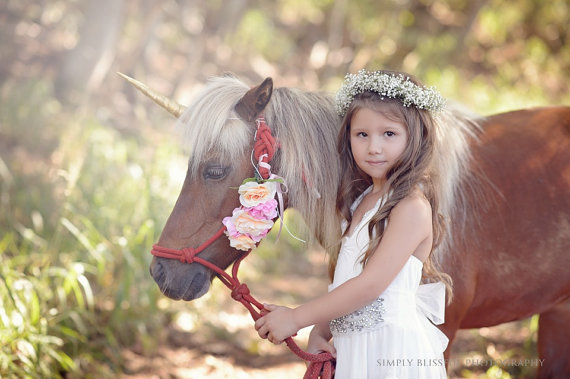 If you have any questions about choosing a unicorn horn or you sell them online and would like to be added to this post, please send me an email at beginthedance@gmail.com.
Leave a comment below and share your experience or head over to the Fantasy Photo Shoots Facebook Group and share photos with the group. It is an amazing group of talented, creative people and you will have fun sharing your photos, getting ideas from others, and asking questions. Click here to go to join the group.
Up Next: DIY Glitter Hooves, Manes, & Tails!
Click here to learn a CHEAP and FAST version of Twinkle Toes for your horse...
Whenever I perform with my horse the first thing that everyone compliments us on is our use of GLITTER! I particularly love to make Douwe's or Rovandio's hooves gold, silver, or copper, whatever matches our costume. Everyone always asks how I get the glitter to stay on the hooves and on their manes and tails. So, I wanted to share this SUPER EASY secret to getting your own "cheap" version of Twinkle Toes!